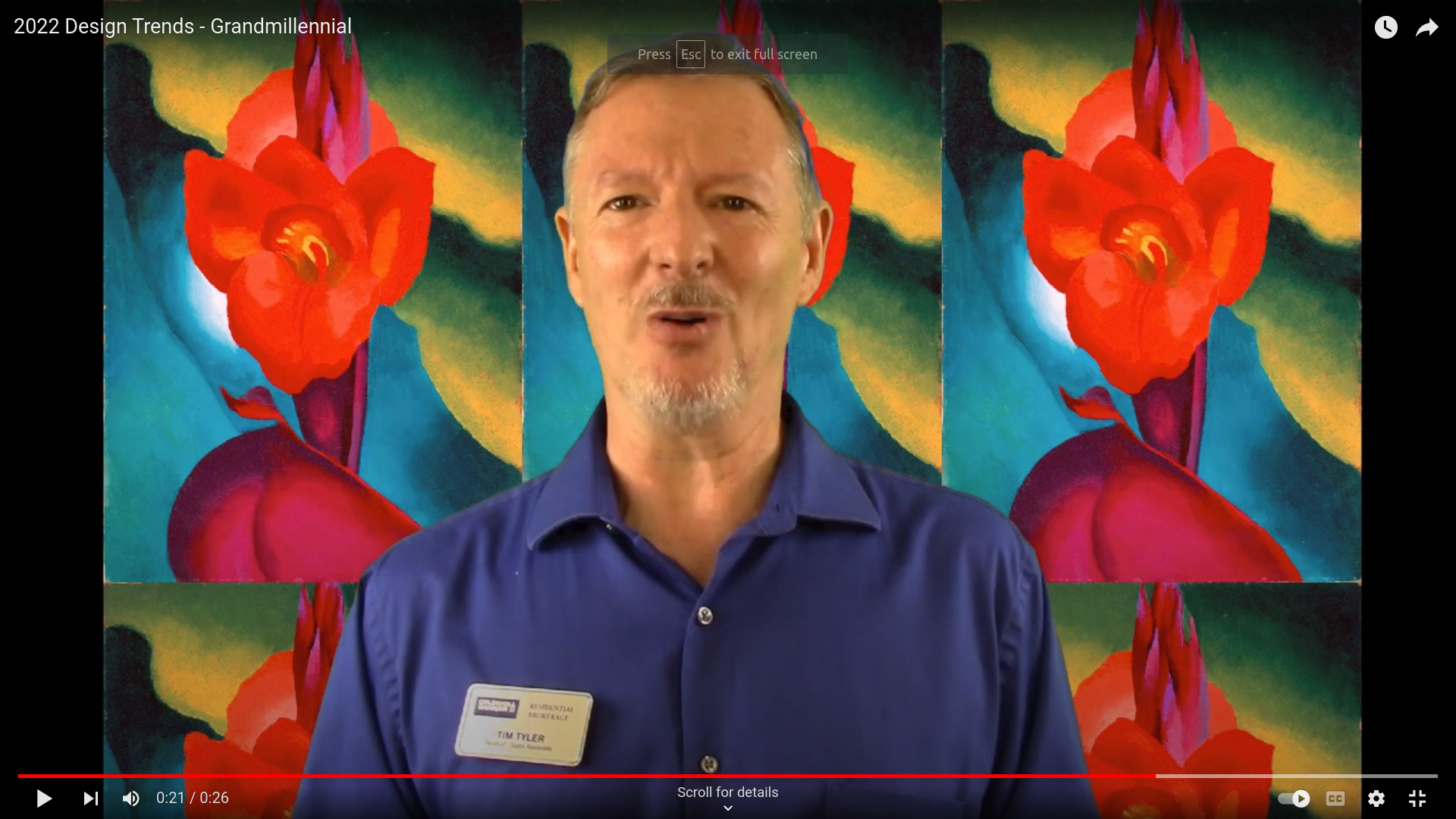 What are the most current interior design trends in 2022?  Is greige still a thing? Is Mid-century Modern hot? Has my personal favorite, Art Deco, made a revival? (Sadly, no…)  Here is a quick intro to the hottest design trends of 2022
Grandmillennial
What is grandmillennial?  Think of your grandmother's house, and you probably have a good idea.  The term Grandmillennial was coined in 2019 and encompasses a return to classic design styles of a century or more ago.  Think floral wallpaper. Maybe not the dainty floral patterns of yesteryear, more like if Georgia O'Keefe made wallpaper (well, maybe not quite that bold, but close…)  Also classic patterns, with needlepoint, embroidery and lace.  Pleated lampshades and upholstery, also materials like rattan and wicker, and dark woods like cherry and walnut typify the style. Grandmillennial invites one to nestle in and get comfortable.
Japandi
At the opposite end of the spectrum is Japandi, a portmanteau of the words Japanese and Scandinavian. Japandi features the spare, zen aesthetic of Japanese style with the simple, functional practicality of Scandinavian style. Japandi interiors are minimalist without seeming antiseptic,  with light colors, natural materials and greenery. The Japandi vibe is calming and peaceful, as if your yoga instructor had a waiting room.
Dark Academia Style
Dark academia style might be characterized as your 80s goth kids grew up and found some money, or perhaps you've moved into Hogwart's with Harry Potter. Like Harry Potter, dark academia is inspired by 19th century Gothic revival style architecture, with carved dark wood, old books, leather chairs.  Got a favorite old bookshelf, an old globe (maybe even one that opens to reveal a mini-bar), a candelabra and maybe an old upright piano? You're all set for dark academia style, just settle back in your flannel PJs with a gin and tonic in your wingback chair and enjoy reading a Gothic romance.
Cottagecore
Martha Stewart fans, take heart! Cottagecore is here! If you have been hankering to take up making dried flower arrangements, or maybe display your copper jello mold collection on the kitchen soffits again, this is the interior design style for you. Knotty pine furniture, eggshell paint, hand-dyed fabrics and similar arts and crafts styles are the heart of Cottagecore. Sustainability and self-sufficiency are key to the cottagecore ethic.
Maximalism
Maximalism is Attention Deficit Disorder as a design style. Look at this nifty throw pil… ooooh what groovy wall pap… oh look, stained glass!!!  Maximalism is all about experience, making a space a reflection of the owner in all their eccentricity and unique flair. If you've got it, flaunt it!  That is the maximalist's motto.
Whatever your design aesthetic, if you're looking for a home to display it in, give me a call or text at 973-462-4079.  I'm happy to help you find a canvas to live your design life in!