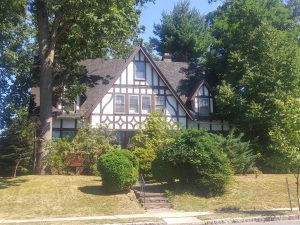 Maybe you already have an idea what at Tudor home looks like. Or maybe you've seen the term in a listing and wondered, what does that mean?
Well, to start with, what's called a Tudor in most real estate listings isn't actually a Tudor. Tudor homes were built primarily in England and Wales in the 1500s, long before any Europeans were building houses in North America. So what we call Tudor in America today are homes built mostly built in the 1920s in older suburbs of the Northeast and Midwest. These homes feature architectural elements common in Elizabethan and Jacobean homes of Merry Olde England. They are more a reflection of domestic regional architecture than of a specific time period. They also incorporate many of the materials and forms of the Arts and Crafts movement which was also popular at that time. Another term used for these homes is Tudorbethean, a portmanteau of Tudor, Elizabethan and Jacobean. This term is nonetheless descriptive for what is, in effect a bit of a mishmash of styles.
Among the things that characterize Tudor Revival architecture are:
the use of steeply pitched roofs,
ornamental (as opposed to structural) half-timbering,
asymmetrical layout, herringbone brickwork and
prominent, high chimneys.
Tudor interiors featured exposed beams, arched doorways, large brick or stone mantels, dark stained wood trim and wainscoting, and textured plaster walls and ceiling. The style is not dissimilar to today's Dark Academia interior style.
Tudor revival made a comeback in the 1970s and 80s with the use of half-timber styling on standard bi-level and colonial houses, with decorative beamed ceilings, dark wood trim (with contrasting stark white walls) and stained glass, often paired with dark shag carpeting. The style was further popularized in hotels and certain restaurant chains of the time such as The Ground Round.
In New Jersey, Tudor Revival homes can be found in many of the train suburbs like Maplewood, South Orange, Summit, Montclair, Paterson and Metuchen. Later Tudor-styled homes can be found sprinkled throughout North Jersey in communities developed in the 1970s and 80s, particularly in Morris, Essex and Somerset counties.
If you're looking for a cozy little Tudorbethean, a Tudor-styled bi-level, or any other type of home along the midtown-direct train line give me a call or text at 973-462-4079 and I'll be happy to help. And remember: When thou findest Tim, thou wilt findeth home!