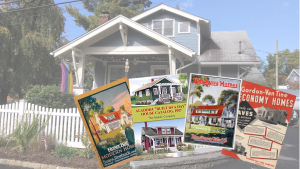 Bungalow style homes were part of the Arts and Crafts movement of the 1900s and 1910s. While they're sometimes called Craftsman Homes or Craftsman Cottages some Craftsman Homes could be significantly larger. Bungalows were one story, or one and a half story homes where the second story has sloped walls beneath the Roof. Dormers are often used to provide additional space in the second floor.  Another common feature of Bungalows are deep front porches with thick round columns for support.
During the Arts and Crafts period you could order a house from a catalog from Sears or a number of other companies like Aladdin or Montgomery Ward. The pre-cut lumber for the house would be delivered by train and you put it all together on site. Bungalows were a popular style sold by these companies. The typical floor plan was for the front door to open directly from the porch into the living room, beyond which was a dining room and an open kitchen beyond that in a style similar to today's popular open floor plans. To one side would be an archway to a short hall with two or three bedrooms and a bath right across from the first three rooms.
Bungalows often featured other arts and craft features like exposed beams and built-in cabinets, shelves or benches. Bungalow style homes were popular in the West, especially California, and in the Upper Midwest. In New Jersey they could often be found in resort areas as summer homes which would become weatherized over time to become year-round homes. They do also show up in older trained suburbs here and there.